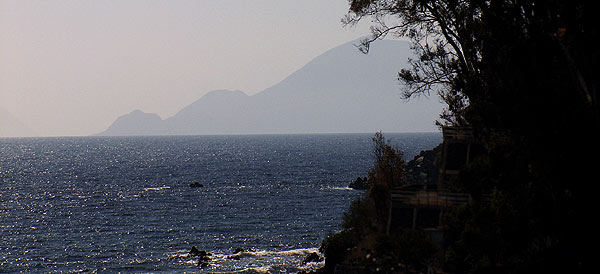 Why Filicudi Island ? Because it's different. It is something really near to pure incontaminated nature... you can breathe pure air and smell the breeze coming from the sea. I prefer Filicudi in winter times... because in the summer it is appreciated by too many people... (especially in the weeks around 15 August) yet... what I call "too many people" is just a desert compared to any other seaside resort in Italy!! if you can choose when to come here on vacation... consider visiting us in September and June or even May... the weather is extremely mild... and you can enjoy the perfect vacation... not too hot... yet very sunny!

You'll enjoy the astonishing sea, archeological trips around the island, or just nature walks on its "terraces" .. upon mount delle Felci.
If you like snorkeling, diving, climbing, canoeing, fishing Filicudi is for you. If you want to read your books in the still of nature... broken only by cicadas... you are visiting the right website to introduce that marvelous island you need to go to.

I've been in the Island since I was 2 years old... quite 28 years ago... my family was and still is in love with the place... at that time it was very different place... with no electricity, only rain collected water... and very few tourism. Today you'll find computers, microwaves, and satellite dishes in many many houses. Here's How to arrive to Filicudi !!!
Nostalgy... Let me be a little nostalgic... for the island was really rude 20 years ago... yet more fascinating for tourists than now, I think.
And when I say in the past Filicudi was hard to live in, I mean so hard many people left the island to get a future in America or Australia... because even just surviving was hard. I'll write a special section about that massive emigration very soon. I suggest you reading the biography of John J. Bonica (here a related photo gallery) here to get an idea of how hard was living there and then.

Today... For the present I hope people living on tourism in Filicudi island will understand sooner or later that a pearl is beautiful until it's ruined by the hands of careless people. A beautiful place is what it is until someone build on archeological places abusive private buildings... or build monsters looking things in the middle of an absolutely Aeolian traditional landscape, or just "forgets" empty Coke cans everywhere. I'd like to have a honorable answer when my descendants will ask me "where have you been when they destroyed Filicudi Island" ???
In Filicudi "Lega Ambiente" (more infos on lega Ambiente) is present with an active section - really active... recently (2002) they have been sued by authorities for a published polemic article about local authorities closing both their eyes on "plain air" and self-evident house building abuses in the island... that's italy... ! - look here an animated image of Filicudi before any civilization -
They try to make the island a better place for the future generations and obviously for who lives there or goes there on vacation in the present.

Back to the Filicudi description... I could tell you it's the most beautiful island within the Aeolian Islands... but actually it depends on what you expect from it.
If you want just to meet as much people as can fit and have fun... you'll be only pleased in August ( but even at that time of year you can still enjoy the pleasure of beaches with nobody but you in just going around the island by boat with your friends or even swimming a little !)
If you want total relax... come in Filicudi at anytime.
If you need some accommodation. I can help you in this, even if I may be sometime too busy to answer you in just a few days, I'll help you enjoying that place! Keep in mind that the accomodations offered in that island are extremely different from each other in terms of quality and prices, sometimes without a "logic" correlation between what you pay and what you get! Yet.. I think if you come there and like the place... you'll be back soon.
Remember... whatever you want.. Filicudi might give it to you... just make sure you meet the island in the right time of year !

Civilization: who said civilization equals evolution???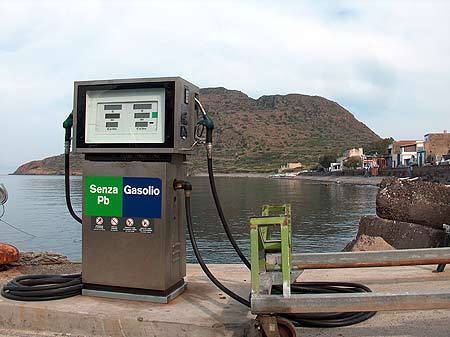 Warning: August 2003/2004/2005 (still valid for 2006, I suppose): Otitis, dermatitis and other unwelcomed symptoms are likely to show if you swim in Filicudi waters in August.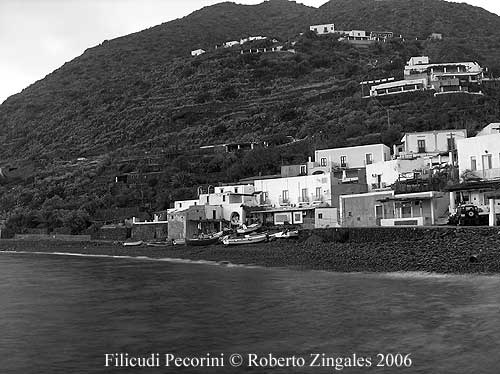 Words of wisdom... Yes, I know, usually "goletta verde" and other green associations declare Filicudi a sea-paradise... yet the truth is that the invasion of Filicudi by yachts of any kind during the summer, especially in August, puts bathers at high risks.
Shit, that is the problem! I mean literally... shit ("feces"), is THE problem.
Too many yachts, with too many indisciplinated people, splurge their best in the morning, sometimes grinding their feces in a subtle floating powder expanding like oil over the waters, othertimes letting them float on the water of the bays of Filicudi.
When grinded, shit, and bacteria spread in all directions.
I'm quite sure there must be some law forbidding this kinda pollution.. yet is seems in the summer 2003 it has not been enforced in Filicudi.
So.. the results are easily arguable.. high rates of infections of any kind.
As ever... don't believe what you read, don believe what you hear.... just think. Water pollution data are collected before the touristic season begins, so water it's clear...
it doesn't mean that it will stay clear aftef a yacht pollution special treatment.
So.. if you are a tourist.. avoid August.
If you are an undisciplined yacther... keep your stuff inside your boat until you reach an equipped marina where you'll be able to dicharge your nice clones.
Where are my visitors coming from? Discover it here!
Thanks to all visitor around the world!
I really appreciate your visits, which are what keep me updating this old site. Incidentally this is the oldest web site on the web about Filicudi Island. it's true! check it out !
FILICUDI in numbers !

Area: 9.5 sq km


Situation: 30 km West of Lipari (Lat = 38° 34, 514N; Lon = 014° 33, 615E)


Highest elevation: 774 m (mount "delle felci" - Ferns Mount)


Age of volcanism:
Zucco Grande Formation: ca. 1.02 Ma
Filo del Banco Formation: 0.34 Ma
Monte Palmieri, Sciara, Guardia, Capo Graziano and Montagnola: 0.25-0.19 Ma
Valle la "Fossa delle felci" and "La Canna": 40 ka


Notable morphologic features:
Monte Fossa Felci (774 m)
Monte Montagnola (349 m)
Monte Torrione (278 m)
Capo Graziano (174 m)
Monte Guardia (145 m)
"La Canna" (71 m)


Residents: about 250 (about 1200 in year 1920)


Main cultivations : Olive, grape, caper, almond, [others...]


Main activities : tourism, fishing, tourism (!), abusive house building...
Where are my visitors coming from? Discover it here!

Links to cool Filicudi related sites
www.filicudi.info , hosts tons of informations about Filicudi Island.
This site contains also information about Filicudi, its people and culture. Actually.. it has become my main Filicudi site in July 2008. Champagne!
http://www.geocities.com/is_eolie A great web site about Aeolian Genealogy maintained by Joe Russo.

http://www.filicudi.org/ - Filicudi Society of Waltham Massachusetts
A web site about Filicudi, maintained by the Aeolian community in Mass.
A growing site... keep your eyes on it !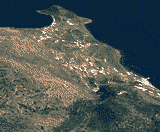 www.esemar.net/Modello3D/eolie.htm
A great virtual tour of Aeolian Islands in 3D... not too bad, you can move around the islands!
The islands aren't too accurate, yet you can get an idea of their spatial disposition!
I definitely like this site.

http://sea.unep-wcmc.org/sites/wh/aeolian.html, a page about Aeolian Islands and Filicudi of course, at the "Protected Areas Programme" web site of the UNEP World Conservation Monitoring Centre.

Download a printable photocube with pictures of Filicudi.

Foto © R.Zingales - Filicudi
Cliccate sulla foto per vedere una galleria di foto di Filicudi!
This site is another source of informations about Filicudi island: Filicudi Island on www.filicudi.tv

So you need an accomodation in Filicudi, huh? Are you searching an accomodation for your holidays - vacations in Filicudi Island?
Do you want to rent a house for some time in Filicudi ? Write me (coolroz@yahoo.com), I'll be glad to help you find the best solution for your relaxing vacation!
Italian text:
Cercate una casa o stanza o monolocale per le vostre vacanze nell'isola di filicudi ? Volete affittare una stanza\casa? Scrivetemi (coolroz@yahoo.com), sarò felice di aiutarvi a trovare la migliore soluzione per le vostre vacanze!
Voulez vous soujourner in Filicudi? Ecriez moi (coolroz@yahoo.com)!
Copyright statement! All images in this web site are under © (Copyright) of Roberto Zingales, unless explicitly stated. No one is allowed to copy, sell, or reproduce them (in any way) without previous written permission by the author. I'm not a lawyer, but you know what I mean. Thank you.